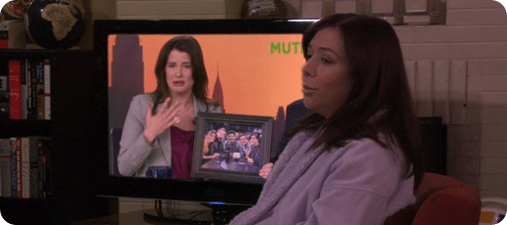 When a show is so entertaining that you can't even stop to write notes then you know it's good. This was possibly one of the strongest episodes this season.  So many funny gags, it was actually hard to focus on the story with Robin's show going on in the background. Barney being swayed to Marshall's way of thinking about sleepwear was excellent, also the call out to the flying sequence form The Big Lebowski was cool. Barney's jokes about the nightshirt were excellent ( Scrooge!, Willy Wonka, accessorizing…) and it was so sweet to see his how his fantasy played out in the re-return.
Despite Lily's actions in Ted's relationships, I think she was doing it for the right reasons. Watching her and Ted do the "A Few Good Men" scene was funny. Lily could totally play Colonel Nathan R. Jessup if they ever do a remake. The only think I didn't like was the Ted/Robin pact at the end, because I know it's just gonna set off the Ted & Robin will be together crowd. You think some of my theories are out there, wait till they get going. I have to diagram things just to follow. Plus I'm not wild about the possibility of playing that story line again before we see anything come of a possible Barney/Robin thing. Anyone else wonder why Barney isn't in any of Lily's front porch scenes?
What did you all think?
Share This