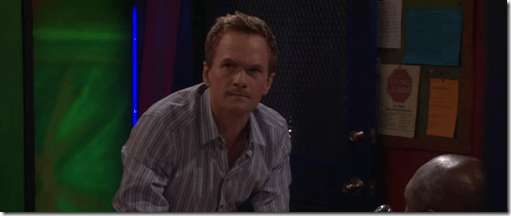 How I Met  Your Mother was nothing short of gold tonight. It seemed at first like a Barney centric episode, and the bulk of the story was, but the secondary from Marshall & Lily was excellent. It's always amusing to me to see how they will try to hide Alyson Hannigan's baby bump…a guitar, orange slices, basketballs? it's like a magic show.  Angry Marshall was hilarious. When Marshall threw the basketball at the kid and yelled at him falling down I was rolling. Plus the Teen Wolf reference was classic. Who doesn't love 80's cult movies. Speaking of which, did I read the opening sequence as a reference to Top Gun?
Robin helping Barney with the list was so funny. They really to work well together. The whole thing brought back memories of Zip, Zip, Zip and why Robin and Barney would be a great couple. The two person answering marching message was well thought out, and Ted look of disgust is priceless.
As far as Danny Glover goes, I'm not sure that really counts as a guest appearence though who would ever think of doing an entire eposide aroung his Sgt. Murtaugh character…those guys that write for HIMYM…that's who. And it worked well.
All and all the story didn't really advance anywhere… not career choices, relationship news whatever, but lots of laughs were had by all and when you come away your time really doesn't feel wasted.
That's my 2 cents… what did the rest of you think?
Share This