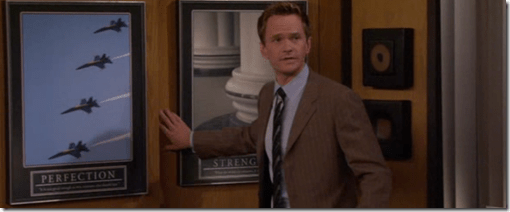 SO if you have been around here long or watched How I Met Your Mother for any length of time then you are probably familiar with the Awesomeness Poster and the legendary poster collection in Barney's office. Despite the Awesomeness poster being the most famous, I have always thought the coolest was the Perfection poster. The poster was there in Season 1 & 2, gone from the walls in Season 3 and back but in a different spot in Season 4! There has never been a 100%  positive id on the catch phrase but I'm fairly certain it says:
It is not good enough to win, everyone else should lose
It's either everybody or everyone. More to the point though, it's not exact but I'm building my own ultimate motivational poster collection like Barney Stinson's and thought that, like the awesomeness poster, it was time to build the Perfection Poster…so, now available from the be awesome instead store is the perfection motivational poster. Try to control yourselves.