Share This
Motivational Posters – Conformity Penguins
Greetings fellow How I Met Your Mother fans and those who love awesome motivational posters. It's no secret that most of my visitors come here for information on Barney Stinson's Awesomeness Poster. Many of you have also requested some of the other Motivational Posters from Barney's office. I have also been working on several of the other posters (more coming soon, I promise!), however until then let's talk about the Conformity Motivational Poster. In "Life Among the Gorillas" not only do we see the poster but we without a doubt know what it says because Marshall reads it out loud. It reads "Conformity, It's the one who is different that gets left out in the cold."
The original poster shows a group of penguins. However, I originally felt that a more accurate poster would only have 1 penguin (because it's alone…try and keep up), well that and I couldn't find the original stock. So for your enjoyment, I have made up a desktop version of the poster that can be downloaded from here. It is 1680 x 1260 and in jpg format. The photo in the poster is from Eli Duke (flickr page and homepage). Thanks Eli, hope it meets your approval! Download here.
In more recent days, the stock photo has actually been found by 3 different beawesomeinstead.com readers. Thanks all of you! Sorry, I dropped the ball but it's cool I can count on you.  Now the original conformity poster is available in a HQ poster size in the Be Awesome Instead store. I've discontinued the fan version but I'm leaving it down there as a keepsake…(feel free to say awww….)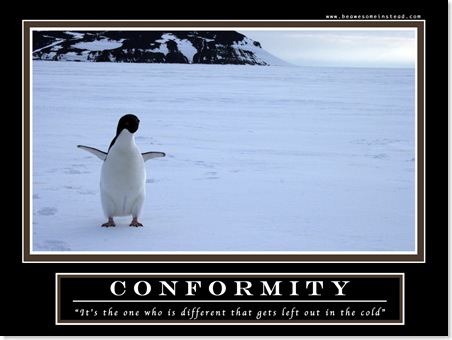 other credits: penguin tour from flickr.