…and then some. So it appears a lot of people are very taken by not only Barney's Awesomeness motivational poster (probably my most popular post to date was just about what the poster said …which in case you missed it is: "When I get sad, I stop being sad and be awesome instead. True story." ) from How I Met Your Mother (great season so far, btw.), but also by his whole collection of motivational posters. But for now, as promised here is all you will ever want to know about the awesomeness poster.
The awesomeness poster from Barney's office did come with the Season 2 DVD if you buy it at Target. I haven't been able to find one there in quite some time, but that's the only official release I know of.
I should also offer thanks to howimetyourblog.com for the proof, story and photo.
I'm glad we can get a hold of the real thing right? Well for me it's not that simple. This poster looks decent size but I love big poster…maybe it's just me though. To the point, I have read and searched quite extensively on the subject, and from what I can tell this is pretty much an exclusive deal with Target. It would be nice if they had several different of Barney's motivational posters, but I figure they either have it planned for the future (for info on all the posters' check out Barney Stinson Office Poster Collection) or they have no plans whatsoever do do anything more with them. Also, I am not totally sure about the actual size of the poster that comes with the DVD.
If you want about the closest thing you can find on the net try out the poster in the beawesomeinstead store and grab one there. I originally started with an  original fan version of the awesomeness poster. It's quite large and awesome as a poster but to be nice, I also made up some desktop wallpapers. They are decent so feel free to partake: 1027.768, 1152.864, 1280.960, 1600.1200.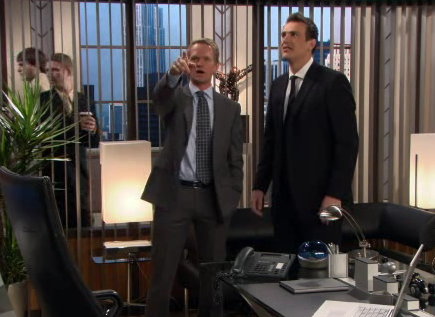 Also… I feel the need to start a conspiracy theory. So what we know for sure is that the Awesomeness poster is first mentioned in Season 1 Episode 17 (Life Among the Gorillas) of HIMYM. And when it is mentioned Barney motions to either the back left corner of his office behind his desk. We also know that the poster makes it first "on screen" appearance in Season 3 Episode 1 (Wait For It…) (..stop waiting that was the name of the episode, sheesh) and at this time it is behind Barney's desk to the right of the center of the room. So he just moved his posters around right? Wrong.
If you take a look at not only episode 1.17 but also Season 1 Episode 21 (Milk) you will see so full shots which I will post below. Check them out and let me know what you notice .
Let me point out a few things. First, in the area Barney pointed, the awesomeness poster is not there. Behind his desk there is no poster with the F-16 jet we saw in season 3 or the correct number of letters for the word "Awesomeness." It can't be on the wall to the left of Barney because as you ca see there is just a huge set of windows. Was there even an awesomeness poster is Season 1…or just the mention of it. It seems to me that, as they do sometimes, fans made such a deal out of it that they threw it in in Season 3 as a great gag. Does this mean that all of Season 1 was a lie? Well… actually yes, it is a TV show remember? Sheesh, you all take this way to serious…
Thanks for reading. Thoughts and comments are welcome!  …If you're still here then that means you haven't been to the store yet! So yet check out the Be Awesome Instead Store for the Awesomeness Posters and others!
*slight update – Since I get a lot of questions on it I have researched and released the definitive work with as much detail as I could find on the complete Barney Stinson Office Poster Collection. True Story.