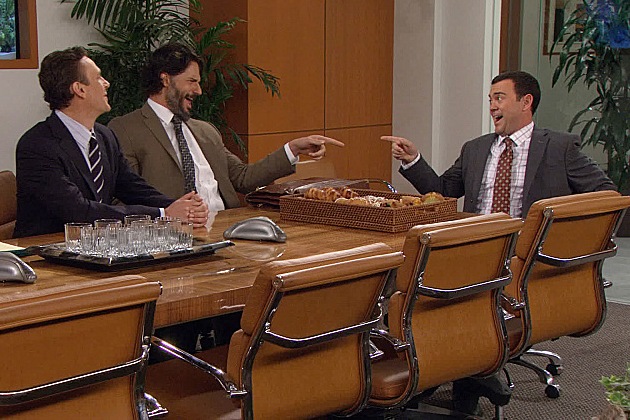 HIMYM Music
Jenniac at the helm of this ship once again. This week's episode is centered on Marshall's St. Cloud given way of giving things his stamp of approval so often that his approval means nothing. This sends Ted into a tizzy to find something he successfully approved without being a piggy back stamper. Meanwhile it's pretty much a fact in NYC that Barney Stinson only hits up the best boobie and booty shakin' places, therefore strip club owners are desperate to gain his business since Barney can no longer go to the Lusty Leopard because of Quinn. Robin takes on the ultimate bro role again in Barney's life as his wheeling and dealing strip club agent.
There were 3 great take aways from tonight's episode:
Joe Manganiello really has it all: tall, hot and hilarious
I will never get tired of seeing college Ted
Barney and Robin are on track and pulling out of the station gearing up for full steam ahead
With all that being said – today's episode was kind of like the stuffing at a Thanksgiving meal – it's filling, but not truly satisfying. The series is moving at a snails pace this season and it really has me anxious about giving this series (and fans) ending to the story it (and we) deserve.
Legendary Lines
Lily: That's like 49 in perv years
Barney: 69…self five
Robin: You are like the LeBron James of strip clubs, actually you're probably tied with LeBron James for that title
Brad: Depresh
Marshall: They even wound up naming a bridge after him…the one he drove off
Barney: Stickies even sent me a boob shaped hand sanitizer dispenser, it's clean AND dirty at the same time
Brad: Freebie muff tops
Robin: B-Dog, Barn Doors, Stinsonatti Bro-hio
Brad: Good just try to stay out there a few minutes, I just cut one and I can tell it's going to be a slow burn
Brad: I have to go to the little boys room…not your office
Marshall: Remember how I always wanted to know what it was like to be a ghost…well I don't want that anymore
Brad: Muchas gracias Bromigo
Barney: I always have fun with you
Moment of Awesomeness
A nice collection of throwback Ted nicknames: Teddy Westside and Dr. X
Lily approved bra
3 way spit take following Ted's confession that he is Dr. X
Ted's college freshman year video diaries – I was worried we were only going to hear them and not see them
How cute is baby Marvin – I was pretty sure we were going the whole episode without seeing him
Sandwiches
Barney's brodium complete with awesome logo
Strip Club Names referenced: Fur Coats, Money Balls, Melon Patch, Big Box, Golden Oldies, Lusty Leopard, The Beaver Dam (false alarm), Mouth Beach – did I miss any?
 New Jersey
Beer cozy, cozy. HIMYM writers it's pronounced koo-zee
Carmel and cheese popcorn combo – no, just no
Hearing Narrator Ted say "we'll get to that"
Brad double crossing Marshall
Lingering Questions
Robin totally picked Golden Oldies because she doesn't want Barney to go to strip clubs, she wants to be with him. Amiright?
Is it just me or would Barney and Brad be awesome bromigos?
Lily and Marshall have a VCR too…yeesh?!
Was anyone else really hoping for a Slapsgiving reference?