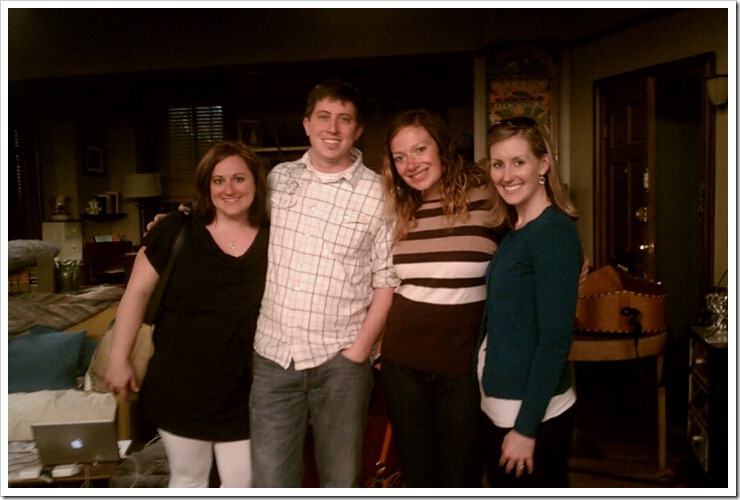 Well Kids…sometimes life gives you opportunities and when you get those all you can do is hang on and enjoy where it takes you… or at least I'd like to imagine me telling the story like Ted, but in my voice it sounds pretty goofy. One disclaimer, I'm not exactly an amazing story teller…you may have noticed this by the way I only comment and do little in the creation department. Do with that information what you will, and in any event here we go. This will be picture rich but please understand I'm trying to share as much as possible with you guys, so enjoy.
One of the benefits of running a site like beawesomeinstead.com is the people you meet. And many years ago in a far away land that we now know as the internet, I met Jenn.  Jenn was impressed with my witty candor, correct usage of there and they're and the fact that we both loved Auburn and HIMYM.  As many of you know, Jenn now fills in here with stories and guest reviews. Through Jenn I met George Sloan, who writes for HIMYM, and George and I became best friends and exchange Christmas and birthday gifts…well good friends, we exchange Christmas cards… actually, I'm pretty sure he at least remembers my name most days, though no Christmas card, yet. Through these two connections and some time off from my day job, my wife Amber and I took a week to visit California. On one particularly legendary day, we met up with Jenn and her friend Kelly (you can see us up top in Marshall & Lily's apartment, we are the people with big smiles looking particularly psyched) and got to go over to the Twentieth Century Fox Studios for a visit. Now, in the interest of full disclosure…all from a guy you don't know on the internet, we expected at best to see the HIMYM office and a quick look at the set. So let's pick up at the office.
I'll walk you through our visit best I can, but I didn't take any video. I love to document but if you can't enjoy it while you are there then why go? The first pic you will see was spotted on our way to the office. It was several HIMYM set pieces sitting outside a studio that had the Simpsons painted all over it. Right after that you will see the directory sign on the elevator. I think that "Little Brother" is a FOX pilot, but there is a small chance that it's just an extension of the Big Brother series (which would be embarrassing) or it's a smaller department that spies on people. Finally we reached the How I Met Your mother Office and waited to be taken to the set.
Another studio we walked past on our way out had one of the most awesome murals I've ever seen. True Story.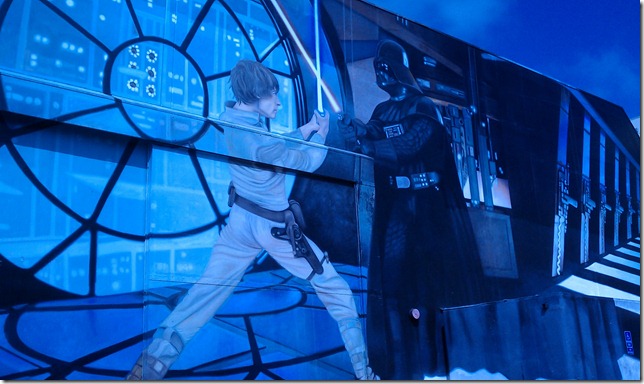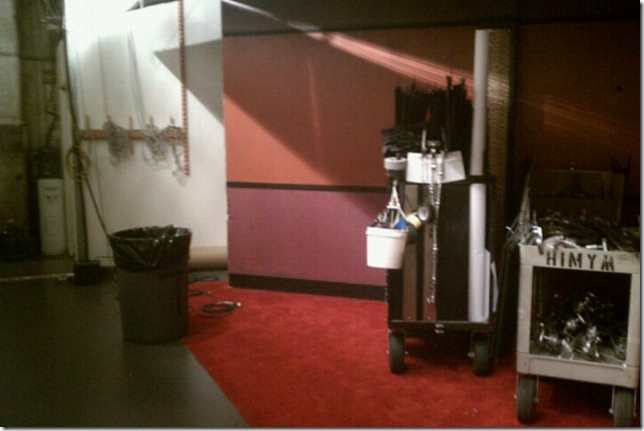 Upon entering the back of the set we see a mess of sorts, but still a cool moment. Looks like these carts were left in the set of the Lusty Leopard. There were no strippers or poles… even lights there at the moment. The amazing thing about the set is how much they can put in such a small space. I mean these guys are masters of space utilization, they use space better than Frank Lloyd Wright, and yes I expect extra credit for all architectural references. From what we were told sets are always changing, thus explaining the set pieces covered in plastic tarp outside. When we walked through we saw Ted's new apartment, the Lusty Leopard,  Robin's news desk, a roof deck, Marshall & Lily's apartment and kitchen, a hallway corridor, and MacLaurens Pub.  And even more to our surprise, the cast and crew are there shooting the episode "Now We're Even".
In compliance with the request that were made of us, we didn't take any pictures where they were shooting the episode but did get to stand and watch the magic that is the production process of How I Met Your Mother. As we walked on set, quietly I should mention, we see Jason Segel, Alyson Hannigan, Becki Newton, Josh Radnor and Neil Patrick Harris with a room full of extras in MacLaurens bar. I've gotta tell you that seeing the cast work like was truly an awesome process. When things would mess up they would be called out and picked up with ease. They jumped from scene to scene and pulled lines without missing a beat. The reactions by the cast and crew to some of the jokes was excellent. There was one joke in particular that Pamela Fryman laughed at every time… Even though they had to shoot it four times. It had to be Neil Patrick Harris's delivery…because the joke was funny, but not 4 times funny.
During the time we were there we unfortunately did not get to meet any of the cast but we did get to talk to quite a few of the crew. Alyson Hannigan and Becki Newton  both walked off set briefly and sat in chairs beside us. I did catch both ladies checking me out, and who could blame them, but since I am a gentleman I simply nodded and they smiled back. I should mention that my wife believes me to be delusional, however we both agree that Alyson and Becki are two of the most beautiful women we have ever been in the same room with. After, we had watched shooting for 30 minutes or so then we asked to look around and check out some of the other set pieces and take a few pics. Below you will see my wife Amber & I in the HIMYM kitchen… it's worth mentioning that there was no longer a pop tart under the fridge.
This is a shot of George talking with Kelly, Jenn, Amber and I. My wife id definitely not camera shy.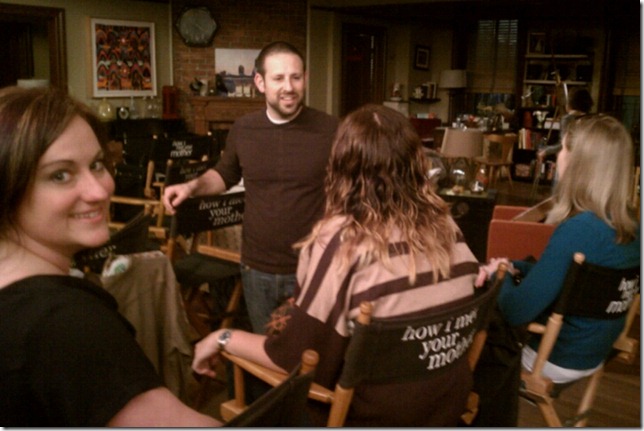 The most interesting picture we took happened next. I was taking a picture of Amber in the apartment when as I'm fixing to click who should walk into the background but Neil Patrick. Her smile is genuine excitement from being there, she had no idea why I moved the shot slightly until after the pic was taken. Shortly after this was take, I like Icarus, tried to fly too close to the sun and asked for a similar picture.  Needless to say Neil walked away and we didn't get the shot. The next thing I remember, we hear that we might have made a certain favorite actor on the show uncomfortable. Frustrated but understanding, we went about enjoying the rest of our time without stars in the background of our camera lenses. I give you the aforementioned picture for your enjoyment.
We saw that shooting was going to continue for a few more hours so we ventured to the great outdoors of FOX studios.  On the way out I was given one of the day's call sheets.  I may post a pic later but for now I'll just tell you this was a great surprise since it mentioned several "spoilers" for Now We're Even. Among these tasty morsels that I had to keep my mouth shut on for about a month was Ted in a green dress, Ranjit (Marshall Manesh), a mariachi band cast mention, and a horse. It's just a copy of the day's activities but it's a treasured souvenir…that I'm not really sure how to frame. Outside the set as we are walking around the FOX lot we found some "New York" scenery that you might recognize if you have seen episodes like Girls vs Suits or pretty much any day at MacLaurens. And yes I did dance on the light poles like Barney, though no photography was allowed at that time, either…this was considered to be a "good move" and is as much for your protection as mine.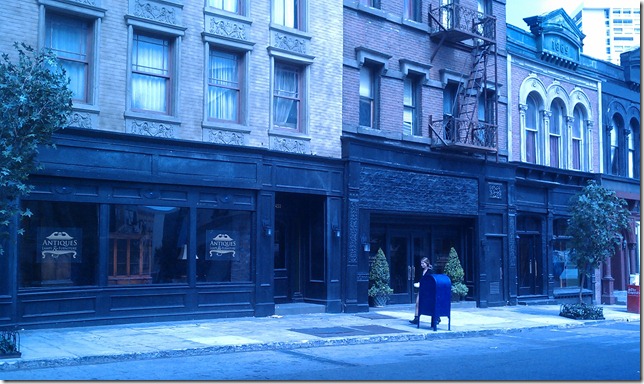 Amber and I infront of MacLaurens Pub (minus the sign)
And on the stairs to the apartment…no one was home, believe me I tried.
Since I've mentioned that story writing is not my forte, you should guess that ending would be extremely difficult. I thought about trying to hit you with a twist or leave you with a deep piercing truth Scrubs style, but I've got nothing like that. I just wanted to share a bit of the sites and stories that I was fortunate enough to experience. I'm extremely thankful to Jenn, George and the cast and crew of How I Met Your Mother for being kind enough to let us visit. I know it was difficult for them all having such a handsome guy on the set accompanied by 3 lovely ladies. They are truly kind souls. If I get to go back again I will share all I can. If you have any questions, I'll try to answer to the best of my abilities, I'm sure Jenn will be watching the site as well.
Finally, I should state for the record that I still don't know who the mother is.