Well I hope you all are enjoying rewatching Season 1 of HIMYM this summer. I'll try to keep these better paced. I'm still struggling with the new format of including video reviews, but I'll try things out and hopefully it will come together. I usually spend some time commenting up front…just general thoughts but I feel like that part will be replaced by the video, but I'll still be keeping Legendary Lines, HIMYM Music section, Moments of Awesomeness and Lingering questions.
   I really want to encourage you all to comment or leave video replies on the How I Met Your Mother Site Youtube Channel, which you can find at: youtube.com/thehimymsite. I know I'm a big dork but I'm a fan like all of you and enjoy talking about the show, so I look forward to what you have to say.
   With that said, what did you thing of Purple Giraffe (from the first time watching even till the 87th)?
Haven't We Met instrumental version by Stephen Lang (Ted imagines Robin at his party) DVD replaces with John Swihart jazz piece
Music cue for the show by Swihart (plays during Ted's keep playing the game scenes)
Everybody Have Fun Tonight by Wang Chung (while not played Marshall references it in Legendary fashion)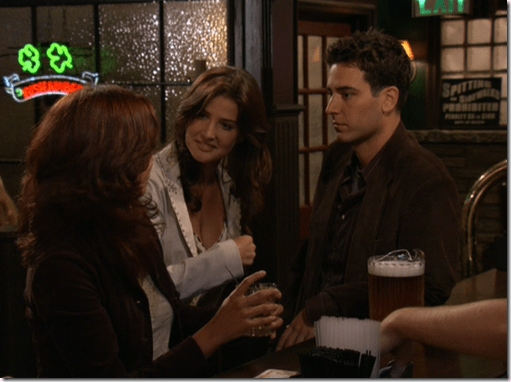 Moments of Awesomeness
Awkward moments with Marshall, Lily…. and Ted. it's always classic when those two go at it and there is Ted. "Guys. Boundaries"
Gatsby. Loved the party scenes… Ted seems slightly different in these…but he is truly more Gatsby. Plus, I've always had a fondness for the Fitzgerald story.
Barney's Statistics… despite the lack of 83% it's still golden.
First off, I love Lily really, but this Season is definitely when she was way more hot than annoying.
"The Mosby" truly the fastest way to get rid of a woman…or is it?
In true Bro Code fashion, Barney works so well as a wing man for Ted, example…pushing Carlos over to cover his Bro's story.
The Kid. Even if it is self assigned, what a great nickname for Marshall.
Ted & Robin. Despite knowing (yes I said knowing) that they don't end up together, one must admit they do work so well together.
The roof. plus the writing for this ep…especially up there. Btw, I personally wish there was on off switch too.
Legendary Lines
Robin: Hello Sailor
Barney: As your sponsor, I will not let you relapse. You blew it. It's over. move on.
Marshall: We threw two parties. Everybody had fun. Everybody wanged, everybody chunged.
Ted: So that was Robin…
Robin: It's a great look but you're looking at the wrong girl…
Ted: My friends are gonna love you…like you…as a friend.
Barney: Solid plan my little friend.
Ted: We're the same height.
Barney: Unbelievable. That is just a recipe for disaster, they work together
Ted: I mean maybe New York's just too big a town, you know?  There's millions of people in this city. How in all this mess is a guy supposed to find the love of his life? I mean, where do you even begin?
(Robin taps a random woman at the bar)
Robin: Hi, Have you met Ted?
Lingering Questions:
Why do you think the interactions with and of the kids faded more in later episodes? Just the age of the actor/actress? Or was there more to how they tell the story?
We seem to get birthday parties in the future but, parties like this in the apartment seem a rarity in the future? Why do you think that is?
Do you play the "Have you met …" game with your friends?
Robin and Ted were clearly great together, why do you think we start the whole series with finding out she isn't the mom and then continue with their relationship anyways?
Despite my EXTREMELY firm belief that Robin isn't the mother (ref. Who is the mother part 2) many still believe it's Robin, if that's you then state your case. You'll get no hate from me, I'd just love to hear it.