I'm not ready for this. ~Marshall
HIMYM creators are on the record as saying "I hope no one will throw the word 'sitcommy' at us after Season 6." Bad News was a huge step towards that.  There was a lot of good tonight and definitely a lot to talk about. When you start watching the episode you will notice some numbers placed at random places throughout the show. It become an intriguing game through out the show to see where they will pop up and you begin to wonder, What are we counting down to? …now I assume that if you are here you have seen the episode, but if not then take my advice and don't go past the here till you do…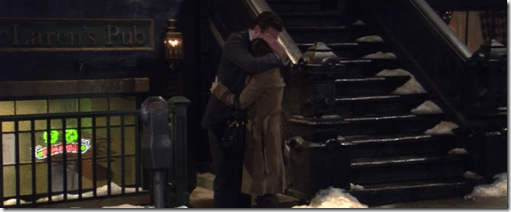 So, the numbers. The whole episode it's like a running gag, a joke. And then the ending hits you. The ending was a complete shock. Gut wrenching but brilliant. Acting, writing, timing, the realization that all that time the countdown was truly for the bad news. I think most fans will either love that ending or hate it. It's easy to draw lines between shows and maybe I just miss Scrubs, but I felt much the same as when JD's dad or Ben died. Those moments are nice to reflect on, but you do have to remind myself this is a comedy.
While the end and the countdown are what people will always take from this is is more that happened! We finally see the final doppelganger! Robin get's humiliated then stands strong. Ted…does very little but at least isn't a douche.
Consider commenting and discussion a form of grief counseling. =\ Love it or hate it, What did you think?
Moments
of Awesomeness

(…just moments)
The fifth doppelganger! This is huge people! Plus Barney in disguise was brilliant as well, totally pulled off the beard.
Barney's laser tag tournament…I was really looking forward to some lasertag. Have we even seen him play since Murtaugh?
Suited up Robin is EXTREMELY HOT with those glasses on…and off for that matter.
The sensory Deprovator 5000… awesome x awesome. (ref. Monday Night Football)
I loved it they they do a call back to Robin's most embarrassing moment from "Return of the Shirt"…then you get to see an awesome montage of all of them. Nice.
Marshall's parents really are awesome. I mean how excited his dad gets for all his news. We should have seen it coming, it was too good.
It's in quotes but the Motility Five… instant classic.
Whether you liked the moment or not, Jason Segel & Alyson Hannigan were brilliant in that moment.
Very cool seeing Alexis Denisof back as Sandy Rivers.
RIP, Mr. Eriksen (Bill Fagerbakke)

Legendary Lines
Lily: This is bad news, this is like a black cat walked through my uterus.
Barney: Motility Five
Marshall ( after thinking of his friends): Maybe Adoption
Robin: They even found the video of me being attacked by an owl.
Ted: You got attacked by an owl? Classic!
Robin: I did NOT get attacked by an owl.
Ted: I thought he needed to listen to common sense and reasonable discourse
Robin: Oh God, tell me those aren't the names of your fists?
Ted: They're my feet … I'm actually more of a kicker.
Barney: It's like I'm looking in a poorly-dressed mirror!
Dr. Stengel: Leave the model of the vagina.
Barney: Gyno-mite!
Barney: I'd give my first born to not be able to bear children.
Barney: Hey, dad!  You're speaking to the regional laser tag co-champion… And my sperm don't work.
Lingering Questions
Do you feel like HIMYM pulled one on us? The countdown was brilliant and engaging yes, but was the so far out of the ordinary that it's COMPLETELY out of character or is the show being taken in a better direction that the "sitcommy" Season 5 that most hated?
I feel like most everyone assumed the "Bad News" was about Lily & Marshall's baby till the end, but we know that long term they do have a baby (ref. Last Cigarette Ever)…with that in mind, when did you realize what was going on? (For me it was between 5 & 4, when he asked for his phone)
Miss the Countdown? Check out  50 things that make you laugh