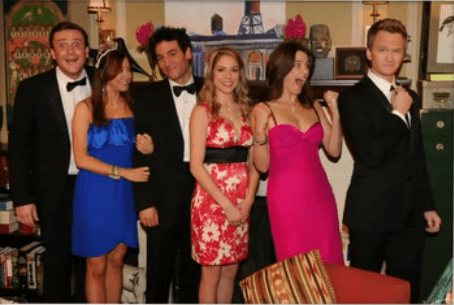 It's very late and I'm on vacation so the bulk of this will have to wait, thought I really want to know your thoughts on some things.
First off, I thought the episode was solid. Great flashbacks, worked pretty well on continuity I thought and kept me laughing all the way through. Barney's awesomeness and inability to take a bad photo was great. Marshall's love for games came through even at Lily's party too and that really made me laugh. A ton of great moments and quoted but I wonder what stuck out to you.
Secondly, Did the one year from now birthday shot tell us anything? To me it says that Ted isn't with the Mother yet…has he "met" her, possibly (or possimpibly, whatever) but since it's just the 5 of them I would say that Ted isn't with a "the one" girl. No Don either… and you would think that after a year it would be acceptable. He could just be out of town but I would put my money on him being gone within the year. Also, it may be a small detail but Marshall & Lily are in the same place. No baby either..I had heard once that LAME might have a baby but I hope not since it would change the show dynamic a lot! Did you see anything else? Reading other items of interest in? It's in my nature to search for these things, but I miss a lot. What did you see?
Finally…music. I loved Marshall's happy Birthday Lily (Lori?) song…that guy cracks me up. But the French Rap song… just awful. Well placed, but it was so bad it was comical. Btw. It's "Briques" by Les Cautionneurs
. I can't find the song for sale but it could be under a different name, I've left you the Amazon and iTunes band links above if you want to search and report back. I'm horrible at French and draw the line for listening to music at something that horrible where that combines the worst elements of rap and a language I don't understand. Wewe? Bonjour.
I'll do my regular roundup soon but for now, what did you think?