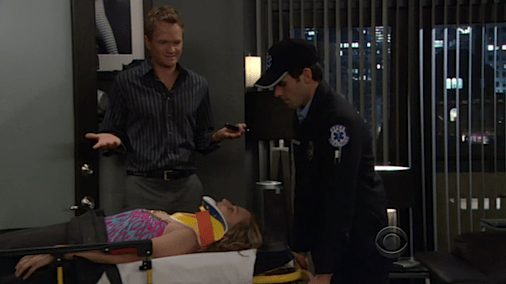 This week I think I'll try moving my thoughts to the end and starting out with lines, moments and such… spoilers follow, but if you're here you know that… btw, I'm trying out a new blog editor tonight, be gentle.
Legendary Lines
Barney: Shall I walk you through the history?
Ted: I'm going to explicitly say no…
Robin: Move past it guys. I've been a little bit loose, but money never changed hands.
Barney:…and so hot girls rolled into doctors offices, rendering the very erection pills they peddled ironically redundant.
Barney: What IN THE WORLD is up?!
Ted (to Robin): You are Captain Hook.
Marshall: Hang in there Scoots, I'm not gonna live forever.
Barney: Am I right people?
Robin: yea, there's no people. Just the girl you most recently dated.
Ted: I seriously considered marrying her out of sheer awkwardness…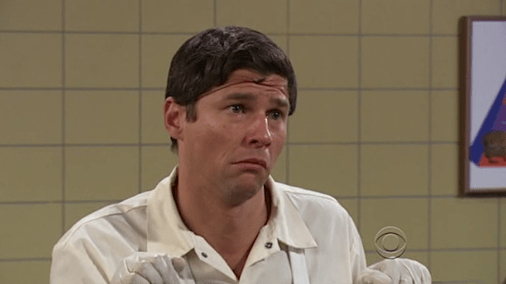 Moments of Awesomeness
Remember Bait…, trampoline too dangerous. slot machine too fun. In fact, Note to single friends/readers: Buy a teacup pig.
Old Ted breaking into Younger Ted's conversation for clarification and insults
Ted & Henrietta's Engagement. Especially, the parental reaction.
the return of Marshall's Vintage Auburn Shirt … War Eagle anyone?
I loved, Alyson Hannigan's work with the pig…NO, not Barney. Lilly and the teacup pig…seriously funny. Add Marshall eventually caving to Scooter and it makes it even better.
Although teenage Marshall looked pretty old compared to his hook, I still love those scenes.
Music
Wish You Were Mine by Light FM – (Marshall waits in the snow to tell Lisa how he feels in song)
the Re-Return
Barney seems to very upbeat about the end of the hot pharma-girl profession, thanks to some purple pills that someone left in his couch.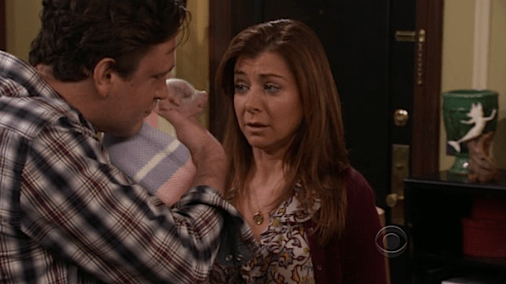 Have you been the hookee or the hooker before? Before married life snagged me from the clutches of phrased activities and clutch phrases, I was familiar with the hooked phenomenon. I'll leave out how often I was on each side, but much like everyone on the show I was on both. Tonight's episode was great. We got to see a lot of Barney being Barney, Ted being naive, Robin being the female Barney in a lot of ways, some Carrie Underwood, and Lily and Marshall doing the couples things in a way that makes us all happy.
Carrie Underwood, while being gorgeous all night, really wasn't as important as Barney's teacup pig. I do love the way that the writers kept her as part of the story bit in the background. I mean after Brittany's second appearance and flop on the show, I guess something had to happen. The pig caused me to laugh a lot more. And even though my wife kept telling me how not cute the pig was, when Lily and Marshall had it I couldn't help but laugh. Add the pig bit with the return of Scooter, now "lunch lady Scooter" and you see a pretty strong story.
Let's talk Robin for a second. I loved the fact she kept being the hooker, as she called it, long enough to get her laundry done despite everyone else's change of heart. What I don't get is why haven't we seen more of Don? Maybe the Olympics are just fooling with my timeline but I expected more from that story already. Past her relationship status, I feel like HIMYM struggles at times with what to do with Robin. Anyone else feel that way? I mean I love everything she does but it all feels like it adds but in more of a space filling and not necessary way. Then again, maybe I'm still feeling jilted because the Robin/Barney relationship was cast aside so quickly.
Barney's wink at the camera never gets old. I felt that Barney's history of hot-girl employment was one of the stronger points of the show but I had seen it so many times in the promo stuff it lost a bit of the edge. What didn't fall flat was the end of the Ted and Henrietta story. Even though you knew what was going to happen once he accidentally dropped the ring, it was still one of the best moments of the night. When her parent's ran out to congratulate Ted, I nearly lost it. SON! I will admit though, the reaction was vaguely reminiscent of another proposal that happened between Barney and another guest appearance.
So overall I thought it was a strong episode, not a ton of substance but a lot of laughs for sure. Enough about me, what did everyone else think?