The thing that annoys me most about most season finales is that someone most always has to die. Luckily, the makers of How I Met Your Mother, must share my feelings and thus we get our own set of clichés. And while we did end up at the hospital (again), a relationship blossomed (again), and a cliffhanger (duh) it was so funny, I really couldn't care less. The only thing I didn't like is they HIMYM doesn't get an hour long season finale.
The callbacks in this episode were priceless. And All the plotlines were done well and made me laugh the whole way through. Also, I LOVED the goat. It appears that putting a barnyard animal in a sitcom is instant comedy genius.  I'm honestly not sure which has more hype and build up…the goat, what really happened with that pineapple or who the mother is? Well at least one question has been answered now, though I wonder how they "get rid" of the goat? Plus we did anyone else catch a glimpse of "the slutty pumpkin" as Marshal stood as Dracula to make the leap?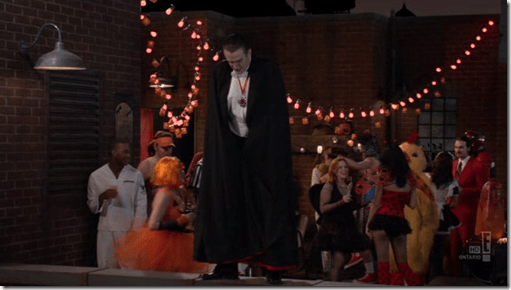 The Robin and Robin story line was excellent, yet not too revealing. Barney's conversation with Ted was such a good scene, and the hug (holding tears back).  The continual back and forth of Robin Mosbying Barney and Barney's reaction was priceless. Their hospital scene was great, the trouble doesn't seem so troubling. Throughout the entire season we have seen Barney make this gradual push towards this…and while I don't think that he or Robin can change their ways immediately, I do think the journey will be strange but funny. I hope they keep the two together long term or something of the sort.  The scene before Barney makes the leap speaks volumes to their feelings. While we have seen many episodes where Barney glances at Robin, knowing there is something more, this may be one of the first time we have seen Robin look that way at Barney.  It was so significant too, Barney making that leap, Robin urging him on with their shared look. Robin belongs with Barney, but we will see how they play this out.
I do love all the talk about the mother, it's fun to think about, discuss. But I enjoy the journey al lot more. Carter Bays said in an interview with Alan Spinwall that he won't answer the "when will we meet the mother" question because his preference is a spoiler. And knowing that the mother is in Ted's class, well that could make things move quick but if the final moment of the show are "and that's how I met your mother" which I am more of a fan of then I hope they postpone it as long a s possible. I think they could keep the show going after she is introduced but I enjoy the journey and stories of these 5 friend so much I really hate to see it move too quickly. And since we know the Mother was in Ted's Architecture class, I would think we can easily eliminate some mother candidates (ehem…Robin, Victoria…)
"You know what? Let's sort this out later"…shall we? I'll recap a bit more with the bullet points and Legendary Lines…
What did everyone else think?
How I Met Your Mother Music: (looking for a song from this season? try here)
Murder Train by the Foreskins (played and Ted and the Goat fight…it's the go to violence song for the show now, bravo) now if they would only release it!
Prophets by AC Newman (closing, as they all make "the leap")
Marshall: Lily, when Evil Knievel sat astride his star spangled rocket on the rim of Snake River Canyon, do you think his wife said, "Honey, Get down from there!"
Lily: For the last time I am not Linda Knievel. I will never be Linda Knievel!
Marshall: You don't need to remind me.
Lily:  You're gonna break whatever it is that pumps that black sludge through his brains.
Barney: You happened upon a beautiful suit. A beautiful Canadian suit. Double breasted…mmmmm…
Barney:  This is so not pimped out, if anything this is pimped in.
Hospital Orderly: But remember buddy. Baahh means baahh.
Barney: The trouble doesn't seem so troubling.
Lily: Barney planned on being a violinist.
Marshall: I AM NEVER EATING RIBS AGAIN!!!… in front of Ted.
Marshall: I did it!
Lily: Yes you did!
Marshall:  I'm getting a motorcycle.
Lily:  You absolutely are not
Moments of Awesomeness:
First and foremost , the goat. The fight scene had me rolling…also I love it when they play Murder Train. I wish I could find that song for download.
Vampire Marshall. All of his "leap scenes" were cool but the vampire look at the Halloween party took the cake.
"The Mosby"… you know I actually used "the Mosby" before Ted did, though I eventually married the girl…true story. (ps, this is not fuel for you Ted/Robin peeps)
Callbacks, Marshall and Evil Knievel, the goat, the roof events, Sven, no one watching Robin's morning show (somebody watch it please?), Lily keeping secrets, Marshall's "I can jump that far", the Halloween party and the slutty pumpkin, Murder Train … callbacks are great anytime in HIMYM but ESPECIALLY in a season finale! (also, I'm sure I missed some)
Robin and Barney's conversation. The back and forth. Fear or commitment vs. the Mosby reaction. Then the kiss. All in all the hospital scene was funny and awesome.
I love the way Ted goes through half the episode with the goat hoof print on his forehead.
So funny when the Rib Town guys broke up with Ted.
No re-return for the Season Finale..but do check back here often over the break. I have some cool ideas planned, some contests and also I plan to start from Season 1 with How I Met Your Mother Recaps. And as always, discussion is recommended and encouraged!