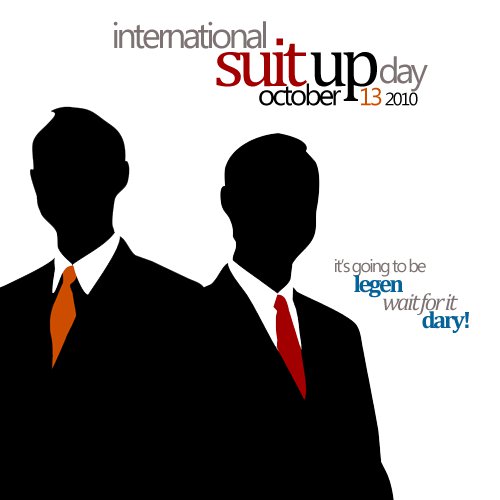 So International Suit Up Day is tomorrow! Plan to suit up in Celebration? Great!
If you do, we want to know about it. Feel free to post a link in the comments, on our Facebook fan page or tweet us on twitter with your Suit Up day picture! I'll work on getting them all the site!
Looking for some other ways to celebrate?
✪ Wear a suit to university
✪ Wear a suit to work
✪ Wear a suit in hospital
✪ Wear a suit to school (daring)
✪ Buy a suit
✪Buy a Suit up motivational Poster for your Office!
✪ If you see someone without a suit, tell them to go home and suit up, or convince them to watch How I Met Your Mother.
✪ Drink in a suit – if you can find a bar called MacLarens, drink there.
✪ Party in a suit.
✪✪✪ Play LaserTag in a suit…. What up!