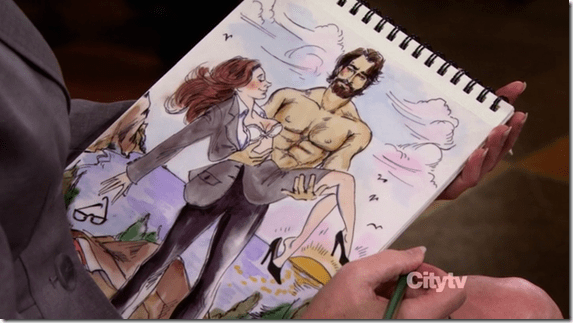 HIMYM Music
Well it's a hat trick for me, Jenniac, here to break down tonight's episode. In case you are a hoser and don't know what  a hat trick is, it's a hockey term for when one player scores 3 goals in one game.
We start off  "a little ways down the road…" ::insert collective groan:: thankfully I quickly got distracted by the infamous MR. BELDING from Saved By the Bell who was one of the judges on the panel.
We have a few storylines going on this week:
Marshall & Brad: Marshall confronts Brad on his deception and even brings up their glory days brunching together. Brad shares that after Kara broke his heart for the millionth time he stopped being nice, started suiting up and lying to get what he wants.  In court Brad plays uses his ASSets and overall hunkyness to win over the all female jury and the male judge. Marshall uses Brad's video against him and has Brad take off his shirt while on the stand which shows off his rash from the water in Frog Lake.  Marshall wins his case, but is only awarded 25 thousand instead of 25 million dollars. Brad comes to apologize to Marshall – seeing Marshall all flustered by Brad and their bromance is still as funny as ever. His adoration towards Brad reminds me of when Marshall was smitten with male Gail. Brad tells Marshall he should be a judge and Marshall realizes that is what he wants because as a judge he can make a real change.
Robin & Barney: Things start off awkward between them until the last few minutes of the episode when Barney and Robin are alone at MacLarens. Barney addresses their weirdness and says he is done trying to get Robin – see Legendary Lines for complete transcription of his great little soliloquy – however when Barney walks up to the bar everything he just said sinks in and Robin says "Huh."
Gang: Teenage Badassery contest – the flashbacks were funny, but overall it was weak subplot with all of them exaggerating.
Legendary Lines
Lily: I was like John Gotti in a training bra
Robin: Yeah and the of waistband his undies wasn't pulled up to his cub scouts neckerchief
Lily: Ted you were never a badass      Ted: Au Contraire       Lily: Off to a good start
Brad: And why don't the frogs be like hey birds can I catch a ride, ribbit
Robin: Man that ZUI drove my insurance through the roof
Ted: Where you dazzled everyone with you slight of tiny hand
Brad: Hasta la see ya
Barney: I'm done trying to get you. I can't do it anymore. I'm sorry it took me this long to figure it out, but I promise I'm done making a fool of myself.
Barney: I want it to be okay, so here's what's going to happen. I'm going to get us two drinks, come back and comment on the likely size and color of the nipples on that redhead at the bar with the big dark nipples and you're going to be grossed out, but laugh a little anyway and then you'll tell a funny story about 'that bitch Patrice at work', but neither one of us are gonna to say' hey how's it going' or 'good to see you', because it really will be good to see you.
Moment of Awesomeness
Brad Abrevs: Futuch, Redonk, Resi, Redempch, Integ
Massive hemorrhoids
Flashbacks: Scooter, Robin Sparkles, Teddy Westside
Scooter force laughing and then screaming in a flashback
When Brad bends over I love the woman who takes off her wedding ring and puts it down her blouse. Also I hope you all noticed Lily's face while Brad is bent over
By the second day of the trial all the jurors are dressed up and showing cleavage
The courtroom artist's rendering of Brad and Marshall
Paddles the duck. Quack!
Brad's Frog Lake video. He can play the sax and pelvic thrust at the same time – impressive
Magic enthusiast club picture
Brunch bro double high five
New Jersey
The cast is looking a bit old in flashbacks these days. It's been 8 seasons and high school Lily via flashback is looking rough.
I found Marshall with the judiciary committee to be a bit too forced
Dragging out Robin and Barney. Really it's episode 8 of possibily the last season. Come on!
The Re-Return
Lily walking down the street with the gang whistling like she did back in her teen badass years which scares everyone off the street.
Lingering Questions
How long did it take you to spot Mr. Belding?
How much is a buttload? According to the MTV made for tv movie  2ge+her it's 1,000.
Do you think HIMYM will put out a calendar featuring still images from Brad's Frog Lake video? I'd totally buy it.
Brad's last name is Morris. Like Zach Morris. Mr Belding was in this episode. Coincidence? I think not!
Sound off in the comment section – you guys have been slacking this season and it isn't cool bro beans…we'd love to hear from you!