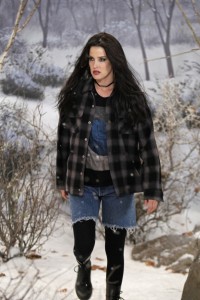 Jenn here tonight kids and I couldn't be more thrilled to have had the honor of recapping and commenting on this magical episode that had SOO much awesomeness packed in. My fingers couldn't type fast enough! Here's the quick recap, but the quotes and moments of awesomeness speak for themselves.
So Jeanette (aka Lily's dad's daughter in real life) is Ted's love interest who at first appears to be just as crazy as him. However Marshall and Lily are convinced that she is a psycho so we learn about the Dobler-Dahmer Theory. Jeanette definitely does a lot of questionable things, but so has Ted or other members of the gang over the years. In the end we learn that Lily and Marshall's meet cute was destiny created by Lily and she was a Dobler, but we learn that Jeanette is truly a Dahmer, who has been following him for the past year and half yet Ted hooks up with her anyway.
We learn that Robin was a psycho stalker back in Canada. So Barney goes to B.C. to track down who Robin stalked. We meet a bunch of Robin's exes and we are treated to the re-return of Simon! We learn about Robin Sparkles fall from fame and meltdown that transforms her into Robin Daggers. I totally buy the Robin we all currently know and love as Robin Daggers – it matches her personality way better!
WORLD'S COLLIDING – FULL HOUSE REFERENCE ON HIMYM. MY 2 FAVORITE SHOWS! MIND. BLOWN.
The absolute randomness of this episode reminded me just how much I love this show. See you in the comments section, let's chat!
Also Craig Thomas tweeted out the link 
to buy P.S. I Love You
Legendary Lines
Narrator Ted: Kid's sometimes when you're about to give up on your love life for the seventeeth time destiny intervenes.
Ted: Wait No. Damnit. Come back. You're pretty.
Jeanette: You had a tweed blazer and chalk all over your hands.  I figured you were a professor or a British gymnast.
Ted: It's a meet cute. // Lily: No it's a stalk crazy.
Barney: 50 meters, that's like 4 years.
Ted: Could not stand the idea of not meeting me. Was it a little over the top to pull that fire alarm? Perhaps. But it charmed me. Hence Dobler.
Gordy Belloveaux: She'd let me go under parka over turtleneck – summer loving.
Turk Grimsby: Sometimes a powdered jelly can help get the old noodle going.
Simon: Didn't you ever see Robin Sparkles Underneath the Tunes on MuchMusic?
Ted: You're just jealous because Lily never burned anything for you.
Barney: Hang on tight it's Robin Sparkles 4 y'all!!!
Ted: We're all terrible people…turn it up!
Narrator of Underneath the Tunes:  They both went Maple with Mall going double Maple.
Robin: I was Robin Sparkles, but Robin Sparkles is dead. My new name is Robin Daggers.
Steven Page: It was tragic. To this day you ask any Canadian where they were when Robin Sparkles lost it, not only can they tell you what Tim Horton's they were in, but what donut they were eating.
Dave Coulier: It wasn't me. Stop asking jeez. CUT IT OUT. (complete with hand gestures) // Narrator Ted (Bob Saget): I always liked that joke.
Barney: I am not obsessed. All I did was break into your apartment and read your teenage journals and fly to Vancouver to interrogate your ex boyfriends and fight beloved Canadian actor Alan Thicke.
Narrator Ted: Before a man meets the woman he'll marry he'll make one final horrible mistake. For me that was Jeanette.
Moments of Awesomeness
Stalker Ted Alert
Dobler-Dahmer Theory
Marshall's date song – cute and creepy versions
Robin Sparkles ' Gem and the Holograms hair
Barney's Canadian word slips
A to Zed – apparently HIMYM writers read the comments on this blog because I know they got called out about that the last time
Barney and his drums
The gang screaming at the news of a Robin Sparkles 4
Great Underneath the Tunes guest cameos – some of Canadian's finest!
Robin Sparkles Underneath the Tunes on MuchMusic
The Underneath the Tunes episode is on VHS (good catch Tyler)
P.S. I Love You music video by Robin Daggers
Dumb spelled dum
Canadian celebs reciting their Tim Horton location and donut they were eating
DAVE COULIER!!!!!!!! – BEST REFERENCE EVER – He is rumored to be who Alanis Morrisette's "You ought to know" is about.
Alan Thicke is a badass
P.S. I Love You is about Paul Shaffer
Vagatarian shirt
New Jersey
Ted's British accent
Jeanette's overly forced crazy eyes
Not enough babe-a-licious Simon
Lingering Questions
Anyone else notice Alyson Hannigan cracking up while the gang watched the P.S. I Love You video?
Ted's mouth looked extra lady like tonight, just me?
Who's going to try the "Could not stand the idea of not meeting you line" this weekend?
Did anyone else notice the robot (well not THE robot, but a robot) in Marshall and Lily's apartment? It's near the doorway towards the bathroom.
And finally – does this mean there are no more hoochies in Ted's life based on what Narrator Ted said. Is he done with random women?  On a related me anyone keeping count on the number of women Ted's slept with or assumed to have slept with over the seasons?